**SEE BELOW FOR
AFFILIATE & AMAZON STATEMENT
**
The abdominal trainer is a true all-rounder device. It combines a back trainer, a side abdominal trainer, and a sit-up bench in one single product.
The Core & Abs trainer gives you varied options for the specific and comprehensive development of the abdominal, back, and buttock muscles.

Free Shipping
Usually, 4 ~ 7 working days to be delivered
30 Day Return Policy
Satisfaction guaranteed or your money back
Secure Payments
Guaranteed safe and secure checkout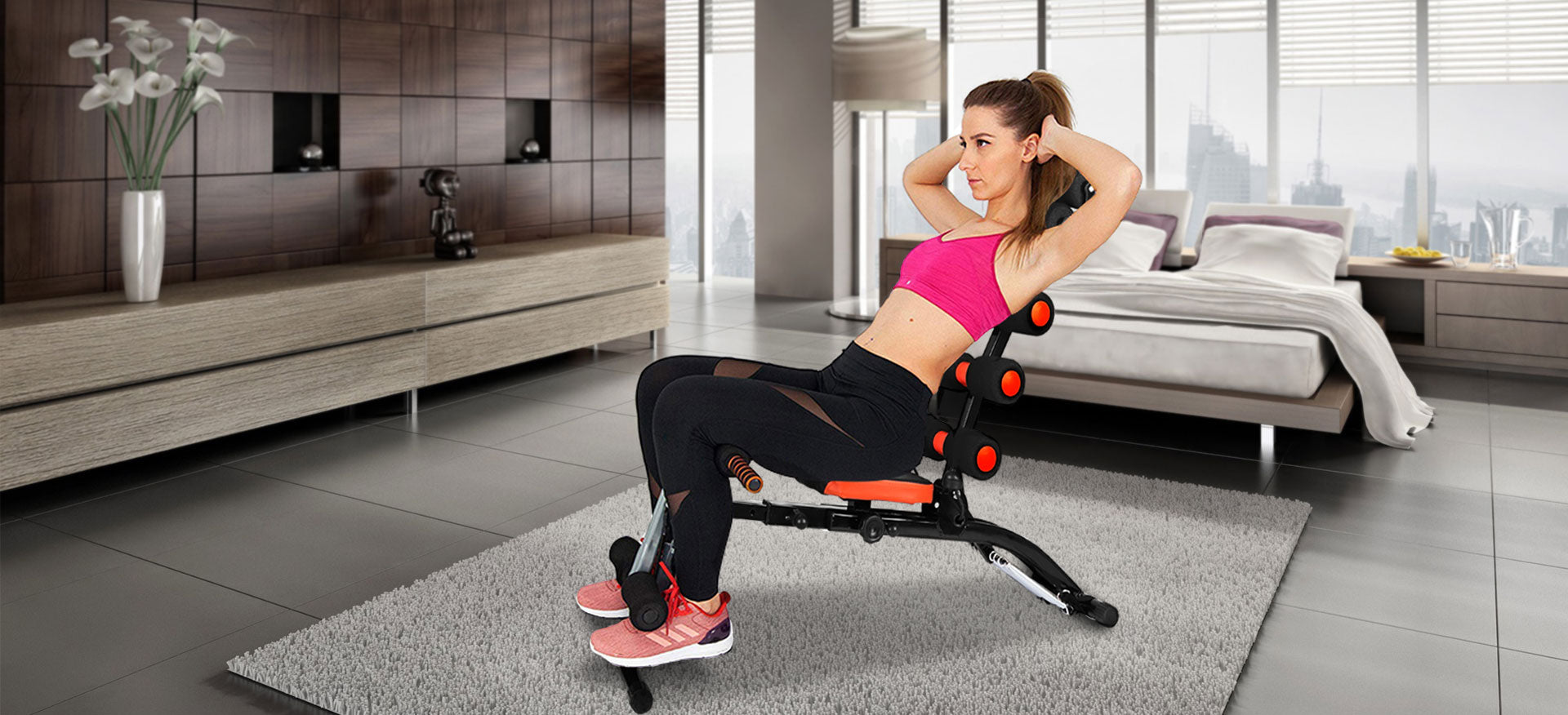 Sturdy & Durable Material
This
abdominal exercise machine
is made of heavy-duty steel and high quality cushion, it is easy to assemble and allows multiple exercises. The max weight capacity is up to 220 lbs, fits for most people.
Learn More in the Following Video

ALL-IN-ONE & ALL LEVELS
Engineered for involving more muscle areas.

Four main exercises for different abdominal muscles.

There are three strength grids to choose from for your legs and arms.
Adjustable length, thus choose a suitable length for weaker or stronger users.
Adjustable head massage part, soft back massage part, comfortable fit, training rope.
Features of the Abdominal Trainer
Versatile and Flexible Fitness Device
The versatile and flexible abdominal trainer can be used as an abdominal trainer, a back trainer as well as a sit-up bench - a device that replaces several training devices. The max. weight capacity is up to 220 LBS. The built-in wheels on the rower allow you to easily train your biceps, triceps or deltoids, without causing any jamming difficulties. Its adjustable resistance can meet the needs of most people, regardless of your age or fitness level. The abdominal trainer is perfect to help you burn calories and train muscles!
| | |
| --- | --- |
| Assembly: | Self-assembly |
| Color: | Orange/Black |
| Product dimensions: | 102 x 89 x 49 cm. |
| Max weight capacity: | 220 LBS. |
| Fit user height: | 4' - 6.4'. |
| Suggested number of people for assembly: | 1-2 people are recommended. |
Multi-Functional & Convenience
Cushioned seat, Adjustable backrest, Adjustable length, Wide cushioned seat
Multi-Functional
Meeting multiple training needs, suitable for beginners and advanced users. 6-in-1 fitness device allows you to perform crunches, biceps curls, leg stretches, side lifting, push-ups, stretching exercises.
Adjustable Backrest
The backrest can be adjusted to 3 different positions for the different training levels. It is ideal for training the upper, lower, and middle abdominal muscles. The neck and back can be supported during exercise.
Multiple Exercise Modes
This Abdominal Trainer is designed to work your whole body. It is ideal for exercising different parts of the body, burning calories, and building up a good body shape at home or office.

Foam-covered Handgrip & Wide Cushioned Seat
A foam-covered handgrip is designed to provide comfort workout experience. And the cushioned seat also gives users a comfortable rowing experience. Don't let discomfort get in the way of reaching your goals!

Power-Assisted Spring Mechanism
Designed with a powerful & flexible spring to assist you in both directions. It is perfect for training your upper, middle, lower abdomen, and oblique abdomen. Exercise efficiency can be improved in less time.



Assemble Guide
Learn More in the Following Video
---
THE HOME FITNESS CORP | HOME GYM AND EXERCISE PRODUCTS | PART OF OUR AB BENCHES, AB TRAINERS, ADOMINAL EXERCISES AND CRUNCHES, BENCHES ALL, CORE STRENGTH AND TONING EXERCISES, EXERCISE EQUIPMENT, FITNESS ACCESSORIES RANGE OF PRODUCTS
SEE OUR FULL RANGE OF
ABDOMINAL TRAINERS
,
GYM BENCHES
, FOR SALE OR
LEARN MORE ABOUT US
AT THE HOME FITNESS STORE
---
Welcome to the Home Fitness Store
, As regular gym users ourself we see the importance of staying in shape and the unique advantages that can be gained by using fitness machines, trainers and weights.
But let's face it who has time to goto the gym? and with so many of us being inside the last year! It's never been harder to stay in shape. We want to change this, so we started the Home Fitness Store.
The Home Fitness Store was born with the vision of providing Quality Gym and Yoga Products for your Home Gym Setup. We have since expanded this to provide quality Gym Clothing and Activewear in a great and vast stylish range.
We are able to offer you these amazing products by utilising a range of suppliers to bring you amazing quality direct to your door, allowing you to create your perfect home gym.
SHOP WITH CONFIDENCE
FROM OUR RANGE OF AMAZING PRODUCTS
---
**AFFILIATE STATEMENT**
We are an Online Marketplace who aims to bring you a wide range of Home Gym and Exercise Products, we use various affiliate links, to bring you the best offers direct to your door.

We also use **Amazon Associates Affiliate Links**

We operate transparently and as an Amazon Associate we earn from qualifying purchases when you click on the "Find Best Price" or "View on Amazon" or "Buy it Now" button and choose to purchase an item on the Amazon Store (Note there is no additional fee to you)

We also earn a commision from our other affilate links, these commisions are at no additional cost to you and help us run the store at The Home Fitness Corp


**WE UPDATE PRICES EVERY 24HRS**
Because we sell products from affiliate links, we automatically update our prices every 24hrs, to ensure they are accurate, However, Please check the final price, and any additional charges at the store you are purchasing from prior to any transactions taking place

See More About Us section to see more info