**SEE BELOW FOR
AFFILIATE & AMAZON STATEMENT
**
The folding fitness bike offers a smooth lower-body workout in a convenient folding frame design for easy, on-demand storage and set-up.

The 2-in-1 upright and recumbent bike gives the option between a sweat-burning workout in an upright position or a slower-paced exercise in a recumbent stance.



Free Shipping
Usually 4 ~ 7 working days to be delivered
30 Day Return Policy
Satisfaction guaranteed or your money back
Secure Payments
Guaranteed safe and secure checkout
Quiet, Smooth, and Convenient
The fitness bike from Home Fitness Code combines quiet and smoothness in the design. Precision-balanced flywheel and Silent Magnetic Resistance System has been adopted, you can feel the bike is sturdy, and don't worry about disturbing others.
Phone/iPad Holder
The bike is designed with a mobile phone/iPad holder of the exercise bike, which allows you to watch television or listen to music while you are using it. 
LCD Digital Monitor and Built-in Pulse Sensor
The LCD indicates distance, calories burned, time, speed, scan, and ODO. And the built-in pulse sensor in the handlebar can monitor your heart rate during exercise. You can track your data and workout at your own pace to ensure you get the results you want.
Movable & Foldable
It is easy to move the fitness bike since its transportation wheels, and you can choose the ideal fitness field as you like. The folding exercise bike can be fully folded to occupy minimal space for storage.
Safe and Comfortable
An ergonomic and comfortable backrest design can fully protect the waist and back. A more comfortable and adjustable widened seat can let you get fit and burn more calories without discomfort.
High performance, Low noise
Durable frame, LCD screen
Advances
Everything You Need

Adjustable Seat
The 3-level adjustable seat can provide a comfortable ride with an optimal sitting position. People from women to men, from youth to the elderly can always find the ideal position of a ride by adjusting the seat.

2-in-1 Folding Fitness Exercise Bike
The 2-in-1 upright and recumbent bike is the perfect workout bike for home. It gives you the option between a sweat-burning workout in an upright position or a slower-paced exercise in a recumbent stance.

Easy Assembly and Storage
The fitness bike is easy to assemble. With detailed instructions, you can assemble it very quickly. When you're finished your daily exercise, simply fold up this space-saving bike and place it in the corner or the closet—no disassembly required!
This fitness bike is suitable for beginners as well as more advanced users. Regular workouts will improve your endurance, strengthen the circulatory system and improve lung capacity. You can burn calories anytime, anywhere with this fitness bike.
8-Levels Magnetic Resistance
Customize your exercise bike routine with an 8-level of the adjustable magnetic tension control system to meet different exercise intensity options, suitable for the whole family. 1-2 gears, warm-up leisure mode; 3-4 gears, cardio training mode; 5-6 gears, fat reduction, and body beauty mode; 7-8 gears, muscle building, and shaping mode.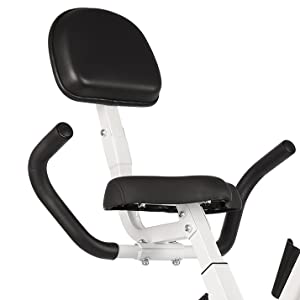 Ergonomic Design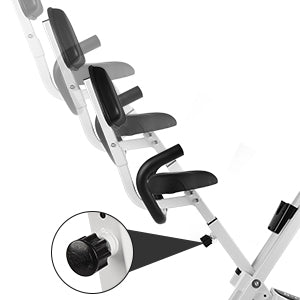 3-level Adjustable Seat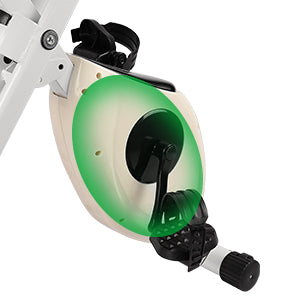 Silent Magnetron Resistance System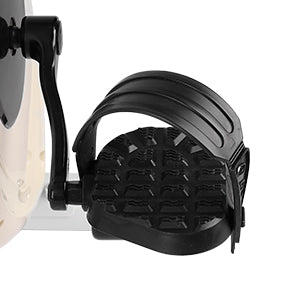 Safe and Comfortable Pedals
Parameters
Bike:2-in-1 Indoor Fitness Exercise Bike with
Resistance Bands
League:2-in-1 Indoor Fitness Exercise Bike
Material:Steel pipe, Urethane, ABS resin
Folded Size: 14x43x114cm / 5.5×16.93×44.8inch
Unfolded Size: 65x43x110cm / 25.5×16.93×43.3inch
Weight: 18kg
Package Contents:1*Magnetic Exercise Bike, 1*Storage Box, 1*User Manual
---
THE HOME FITNESS CORP | HOME GYM AND EXERCISE PRODUCTS | PART OF OUR CARDIO MACHINES, EXERCISE BIKE, EXERCISE BIKES RANGE OF PRODUCTS
SEE OUR FULL RANGE OF
EXERCISE BIKES
AND
HOME GYM EXERCISE MACHINES
FOR SALE OR
LEARN MORE ABOUT US
AT THE HOME FITNESS STORE
---
Welcome to the Home Fitness Store
, As regular gym users ourself we see the importance of staying in shape and the unique advantages that can be gained by using fitness machines, trainers and weights.
But let's face it who has time to goto the gym? and with so many of us being inside the last year! It's never been harder to stay in shape. We want to change this, so we started the Home Fitness Store.
The Home Fitness Store was born with the vision of providing Quality Gym and Yoga Products for your Home Gym Setup. We have since expanded this to provide quality Gym Clothing and Activewear in a great and vast stylish range.
We are able to offer you these amazing products by utilising a range of suppliers to bring you amazing quality direct to your door, allowing you to create your perfect home gym.
SHOP WITH CONFIDENCE
FROM OUR RANGE OF AMAZING PRODUCTS
---
**AFFILIATE STATEMENT**
We are an Online Marketplace who aims to bring you a wide range of Home Gym and Exercise Products, we use various affiliate links, to bring you the best offers direct to your door.

We also use **Amazon Associates Affiliate Links**

We operate transparently and as an Amazon Associate we earn from qualifying purchases when you click on the "Find Best Price" or "View on Amazon" or "Buy it Now" button and choose to purchase an item on the Amazon Store (Note there is no additional fee to you)

We also earn a commision from our other affilate links, these commisions are at no additional cost to you and help us run the store at The Home Fitness Corp


**WE UPDATE PRICES EVERY 24HRS**
Because we sell products from affiliate links, we automatically update our prices every 24hrs, to ensure they are accurate, However, Please check the final price, and any additional charges at the store you are purchasing from prior to any transactions taking place

See More About Us section to see more info